Got Curves? We've Got You!
Meet Our CurvyCon Collection
At Amour Vous we know what what gives.  Size is just a number.  It doesn't define ANYONE, EVER.  Beauty comes in all shapes and sizes and our apparel does too. 
So, without further ado, (drumroll please...)  We're thrilled to annouce the Amour Vous CurvyCon Collection!   We have so much comfort and style to offer in this exciting, new group of on-trend classics, we're not even sure where to start.
The collection, available as we type, comes in select styles sizes ranging from XL to 6XL.   *Please note:  some styles range from XL to 2XL, 3XL or 5XL.  Be sure to check out size guides before buying.
We have leggings in great prints and rich solids, sports bras, sweatshirts, dresses, swimsuits and more!  
All our fabrics are soft as butter and gorgeous to boot.  Most stretch 4-ways and gently smooth in all the right places, but don't take our word for it.  See for yourself!
Leggings (XL - 6XL)
Perhaps the most comfortable (and useful) clothing ever invented.  The creation of our CurvyCon leggings might just be the 8th Wonder of the World. 
They're so buttery soft and smooth that (shhhhh, don't tell); half our staff actually sleeps in them.   Of course they easily go from gym to street to couch too, with quite an undemanding flair.   
They're the body hug you never knew you needed, and they come in classic and on-trend colors and prints ranging from bold to neutral.  Totally binge-worthy!  
Sports Bras (XL - 2XL)
Spectacular creature comfort for your gals.  Amour Vous sports bras are made from smoothing moisture-wicking material that stays dry during low and medium intensity workouts.  
These bras have A-C cup LIGHT TO MEDIUM SUPPORT with a double layer front, and a wide elastic band. In fact, SOOOOO comfortable, it regularly doubles as a lounge bra. 
Sweatshirts & Hoodies (XL-5XL)
Perfect for cooler days and nights when you want to cozy up in a sporty sort of way, this classic hoodie is an absolute, keep-at-your-fingers GO-TO. 
With yummy saturated colors ranging from maroon to Irish green; you're sure to find a hoodie or sweatshirt to keep you happy all season long. 
If belly-love or layering (cami-style) is your thing, check out our Cropped Hoodie (XL-2XL)  or our soft, feminine Croppped Tees (XL-3XL) made of a premium knit-jersey so soft and stretchy you may forget all other tees.  (We won't judge, promise!)
Fit & Flare Skater Dresses (XL-3XL)
This flirty skater dress can seriously put a hop-skip in your step.  It's fun. It's stretchy and smoothing and BONUS - it's also a three season piece that dresses up or down without a hitch.
Off for a leaf-peeping picnic?  Throw on a chunky cardigan and some boots. 

Summer heat got you down? 

Boho baubles and a pair of sandals is all you'll need.

Come spring, a light button down or your favorite tie-shirt ought to do the trick.
Wala!  Style and comfort cooly handled.                                            
Swimwear (XL-3XL)
One-Pieces
An absolute take-me-back-to-old-hollywood-glamour classic.  Amour Vous  one-pieces are designed to smooth and flatter without creating that encased-sausage look and feel.  We are well aquainted with 'breathing-would-be-nice' attire and hate it as much as you do!  This sleek baby is easy to enjoy at the pool, by the sea, in the hot-tub or even at your local gym or YMCA.  
Bikini's
Freedom - feel it, own it, enjoy it - in a bright and comfortable REVERSIBLE bikini! The top is similar in style to a sports bra for a little extra support and the bottoms tie at the sides for ultimate sizing flexibilty. 
Rash Guards 
Let this smooth and versatile long-sleeve rash-guard protect you from the elements.  Your future skin will thank-you!!!  It comes in a plethora of cool Amour Vous colors and prints with a few extra features like flat seams and a longer body for comfort.
CurvyCon in Review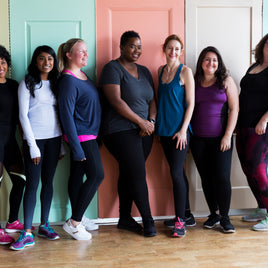 If you believe beauty has no size; and that its infinite in form and function; we say 'yay' and heartilly agree.  So insanely thrilled to offer our CurvyCon collection, we will continue to create additional styles and colors, so please stay tuned!
All Our Best,
The Amour Vous Crew